Are you peeking for ways to grow a business with the NFT marketplace? Wondering !! What works and what doesn't work? Here is the NFT Marketplace business model for your to sketch out the plan for your business.
In this blog, you can learn a complete guide to the NFT marketplace business model help you to structure your NFT marketplace to avoid mistakes and much more.
It is a challenging task for businesses and creators to stand ahead and grab the concentration of their audience. Generally, we bombard with messaging from media, brands, and other creators.
Among several methods, one of the unique ways is using Business Model which helps your NFT marketplace to stand ahead and build robust connections with its audience, even in saturated and crowded markets.
You may have the question how?
Here the business model comes into the picture! This guides you in the creation of a plan for achieving your business objectives. Before we step into the topic; let's take a rapid look at what an NFT marketplace is and why an NFT marketplace needs a business model.
What Is NFT Marketplace Business Model?
NFT marketplace business model helps to determine and analyze several aspects of the business model, allowing stakeholders and entrepreneurs to make informed decisions. The main purpose of using a business model canvas for the NFT marketplace is to facilitate a structured framework to understand and define the key components and considerations involved in running a successful NFT marketplace.
If you are eager to learn more, read our previous blog about how to start an NFT marketplace business. Now let's step into the next topic why a business model is essential for the NFT marketplace.
Why Does NFT Marketplace Need A Business Model?
The NFT marketplace is a big business, really big business!!! global cryptopreneurs are more passionate about the business model.
Why?
The business model facilitates companies to visualize and analyze their strategy. This model updates as the company evolves, like changes in new streams, markets, and expansions.
The business model offers a central, common source of knowledge Via which every segment could add their special input from their appropriate domains. It is a template that defines the business – especially, how every segment interacts with others.
Moreover, the NFT marketplace uses the business model to assess, plan, or implement new models altogether. In this way, the business models highlight the key essentials and also confirm that no vital factors are forgotten.
To be precise, a well-defined business model is necessary for the success of an NFT marketplace. It supports you in generating revenue, depicting the value proposition, cultivating customers, grabbing investors, and confirming scalability.
NFT Marketplace business model: 9 Standard
The business model of the NFT marketplace is made up of 9 building blocks that explore the logic of how a company plans to provide money and make money.
The 9 blocks cover the 4 main areas of a business they are
Offerings
Customers
Infrastructure
Finances
The business model is like a "Blueprint" for a strategy to be executed via organizational structures, systems, and processes.
In one step below, you can learn more about the 4 main areas where the 9 blocks are fitted.
Let's spend time…
Offering – Value You Offer!
The "value" that your NFT marketplace provides might be defined in various ways based on the context, but generally, it refers to the advantage or benefits that your customers acquire from the company's offerings.
Let's be more specific…
NFT Marketplace Value Propositions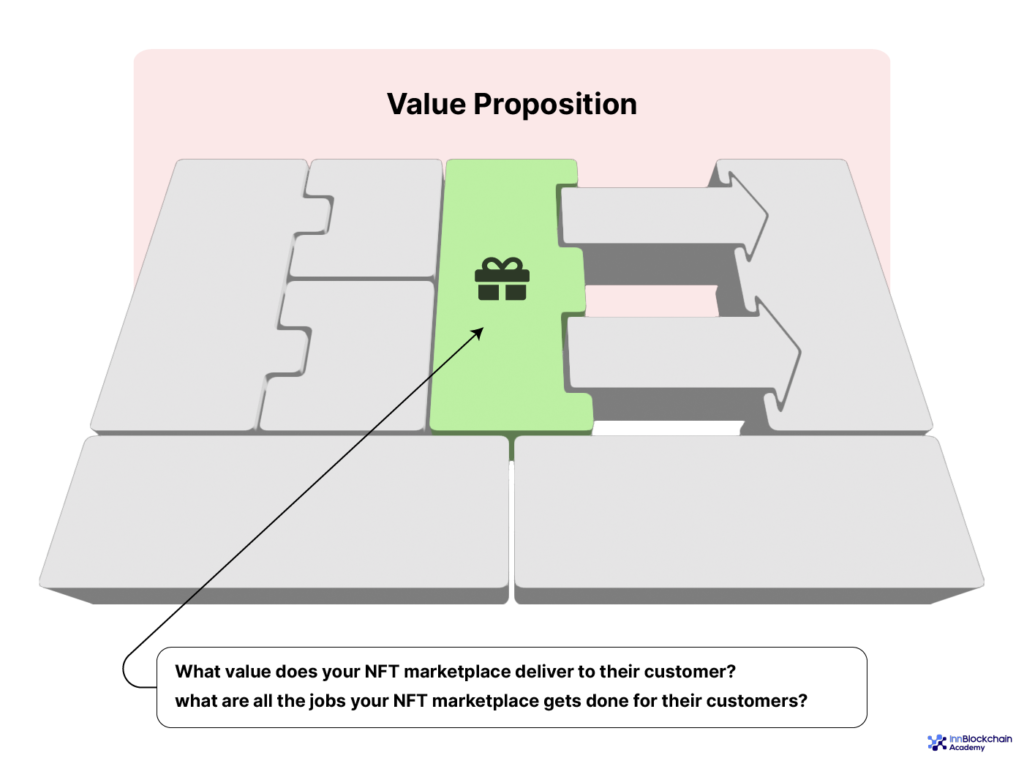 Your "value propositions" refer to the heap of products and services which creates value for a particular customer segment. To put it in one word, it summarizes why the customer would select your product or service. And the benefits they are going to receive from your NFT marketplace. It has to answer the following questions:
1. What value does your NFT marketplace deliver to its customers?
2. What are all the jobs your NFT marketplace gets done for its customers?
3. What customer requirements does your NFT marketplace satisfy?
4. How much heap of products & services are you going to provide to your customer segment?
Your value proposition says why customers turn towards your NFT marketplace. It resolves your customer's issues or meets your customer's requirements. Each value proposition includes products/services which are provided based on the need of the customer segment.
In some cases, value propositions might be innovative and denote a new or disruptive offer. Others might be similar to existing market offers along with addon attributes and features.
Example: Let's consider OpenSea's Value Propositions. It consists of:
Buyers: A suitable NFT marketplace with a large number of NFTs. Ethereum gas fees were covered by the platform;
Sellers: NFT marketplace with free entry and also provides a massive offering for the buyer. A small fraction of the amount is deducted from the total NFT cost. This is charged as a service fee. As the platform covers gas fees, customers can make more profits.
Now, let's peep on to the second category, "Customers", which covers all elements of your business's end users.
Customers – All About End Users!
The word "Customers" in a business context refers to individuals or entities who buy products or services from the company. Here customers are divided into three categories they are
Customer Segments
Customer Channels
Customer Relationships
Let's discuss them one after another…
Customer Segments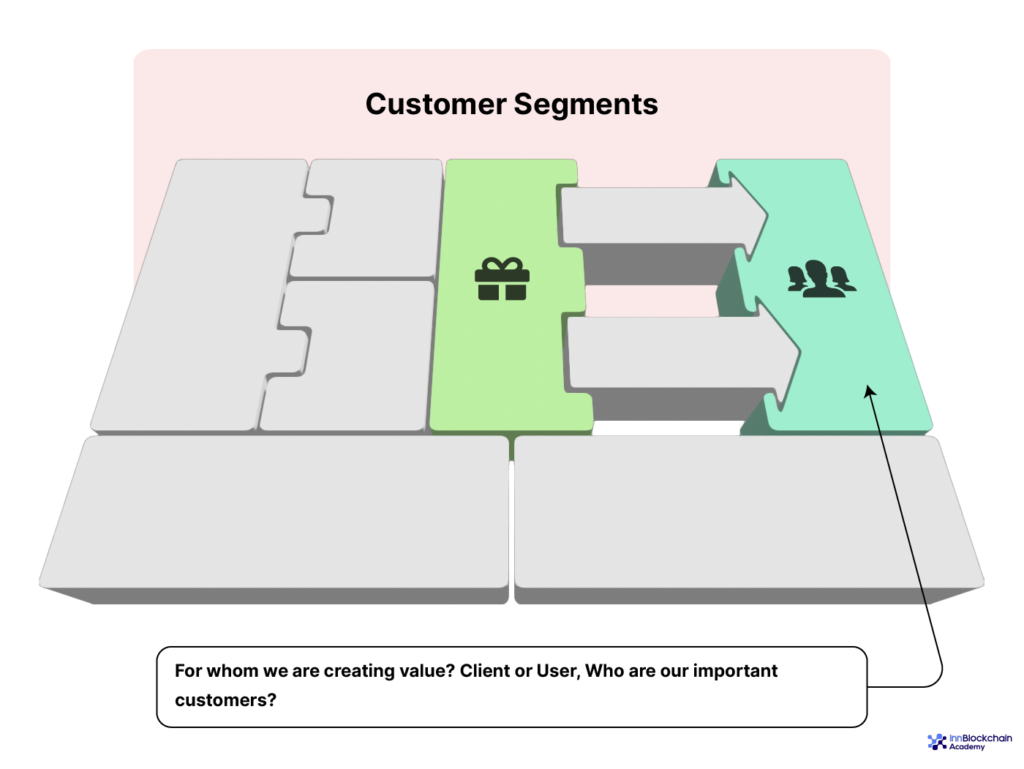 Your Customer Segments refer to a group of people or an organization that the NFT marketplace serves or targets. This includes users who are necessary for the working of the business model. It must answer the question
For whom we are creating value?
Client or User, Who are our important customers?
Customer Segments comprise customers who are the heart of the business model. Without profitable customers, your company generates revenue or survives for a long time. To satisfy your customers, you must group them into different segments with common needs like common behavior, jobs to get done, and more.
The customer segment may be small or large. But you have to decide which segment to ignore and which segment to serve. Once it is decided, you can design a business model based on your customer needs and the job to be done.
The customers are categorized into the distinct group if they meet the following features:
specific requirements explaining the creation of a product to satisfy its requirements;
they are reached via the distribution channel;
diverse types of relationships;
the difference in the level of profitability;
they wish to pay for various aspects of a value proposition.
Example: Let's consider OpenSea 's Customer segment. It consists of:
Buyers: Who purchase NFTs from others, in the case of a famous NFT, they commit themself in auctions to outbid others;
Sellers: Who sell, advertise, and design NFTs either as collections or as single assets.
NFT Marketplace Channels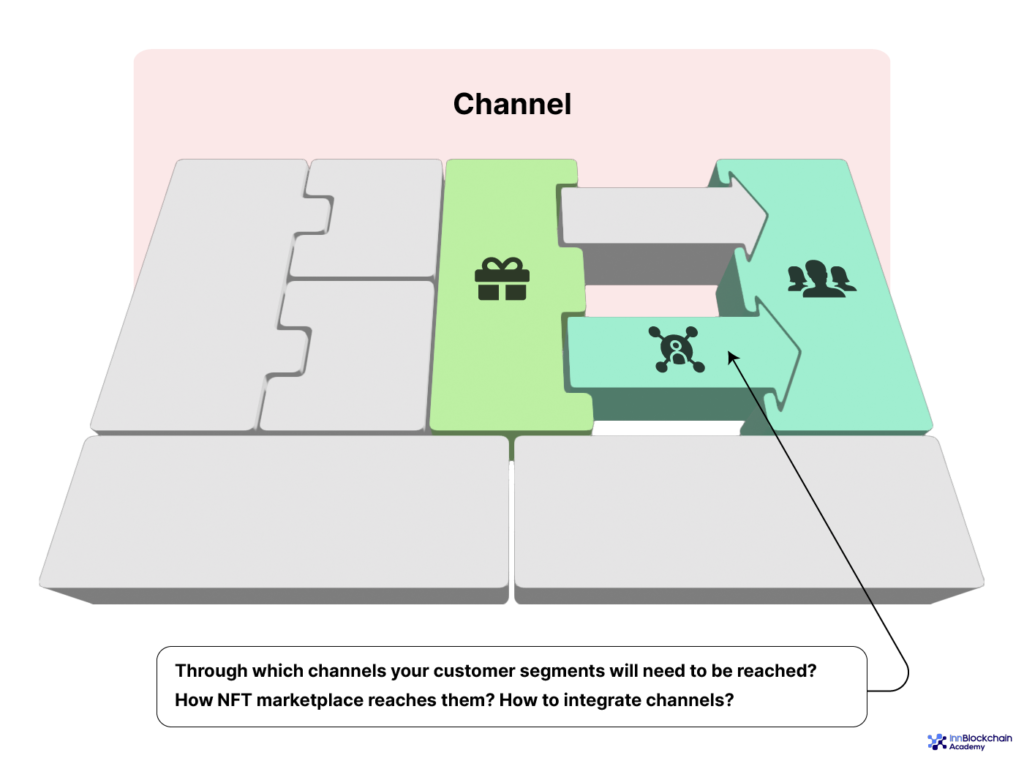 Your Channels refer to several methods by which a company reaches and interacts with its customer segments to deliver its value proposition. It must answer the following questions
Through which channels your customer segments will need to be reached?
How does the NFT marketplace reach them?
How to integrate channels?
Which one is cost-effective?
How to integrate with customer routines?
Your distribution, communication, and sales channels incorporate your company's interface with customers. The channels are the customer's touch point which plays a key role in the customer's experience. Your channels must have to serve the following functions such as:
Boosting awareness among customers about NFT marketplace's products and services.
Supporting customers to evaluate the NFT marketplace's value proposition.
Facilitating customers to buy particular products and services.
Providing value proposition to customers
Offering post-purchase customer support.
Example: Let's consider OpenSea's Channels. It consists of
Website: Use a strong channel to reach and interact with your customers. Through the website, you can communicate and deliver value to your customers.
App for Android and iOS: It is a key distribution channel through which your NFT marketplace could provide its services or products to its customers.
Customer Relationships of NFT Marketplace business model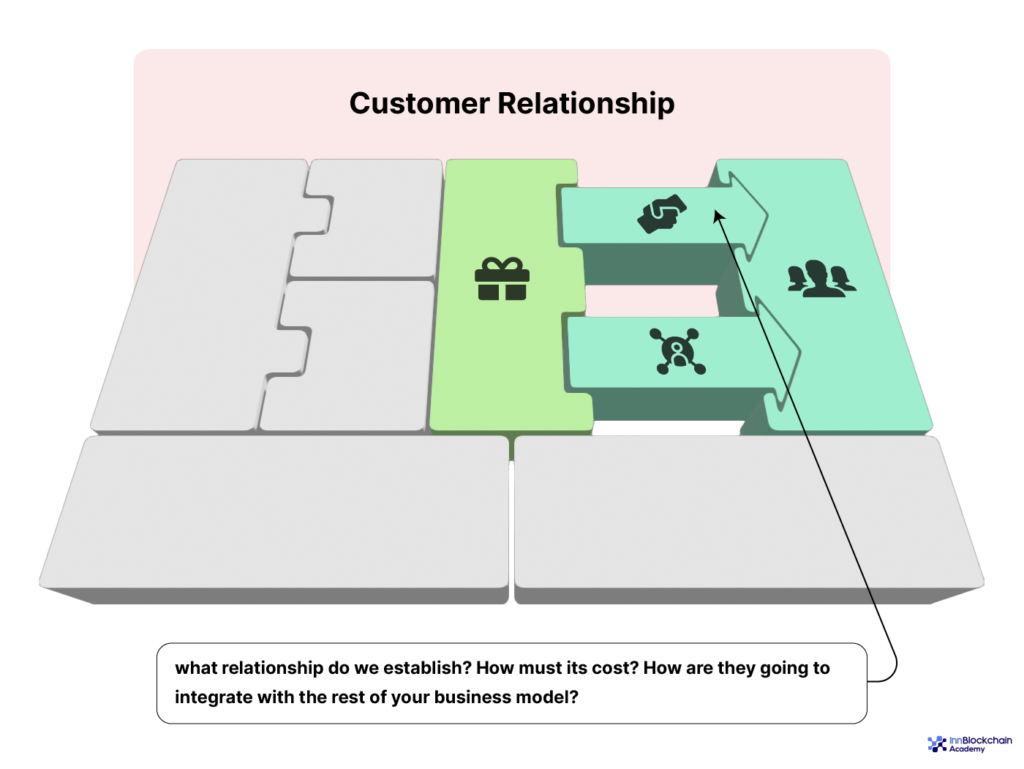 Your Customer Relationships refer to the way the NFT marketplace interacts with the customer segments to enhance, maintain, and establish a relationship with them. It must answer the following questions:
What kind of relationship is established by the customer segments with your NFT marketplace?
What relationship do we establish?
How much its cost?
How are they going to integrate with the rest of your business model?
The NFT marketplace must define the type of relationship it is going to establish with its customers. Relationships are established via various channels. The relationship may range from transactional to long-term, personal to automated, and aim to obtain customers, boost sales or retain customers.
Example: Let's consider OpenSea's Customer Relationship. It consists of:
Customer Service: Requires authentic & consistent communication, readiness to listen & respond to customer feedback, and providing valuable responses to your customers via exclusive promotions and engaging content.
Social Media: Requires involvement in building & sustaining a positive and engaging presence on numerous social media platforms which have numerous active customers.
Infrastructure – Things You Need To Focus on!
The value "Infrastructure" refers to fundamental things like partners, processes, and technology that are required for the proper functioning of your NFT marketplace. This section is categorized as:
Key Partners
Key Activities
Key Resources
Let's take a quick insight into each segment…..
Key Resources: Which to Emphasize?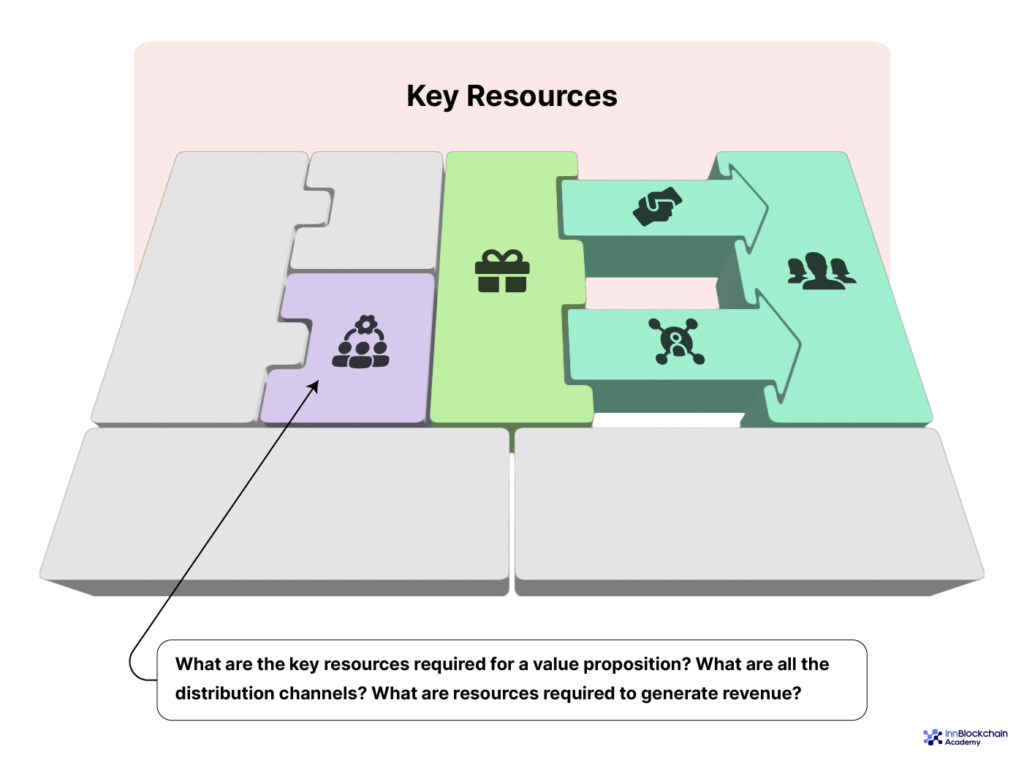 Your key resources refer to the most prominent assets like human, intellectual, financial, and physical that are essential to make your business model more effective. It must answer the following questions:
What are the key resources essential for a value proposition?
What are all the distribution channels?
What are the resources essential to maintaining customer relationships?
What are resources essential to generate revenue?
All business models need key resources. Your resources facilitate your NFT marketplace to reach the market, deliver a value proposition, maintain a relationship with customer segments, and gain revenue. Key resources may vary based on the kind of business model.
Example: Let's consider OpenSea's key resources. It consists of:
App and Web Services: NFT marketplace utilizes these key resources to interact with its users in a digital environment.
Active Sellers & Buyers: Refers to the key players who are taking part in buying/selling goods & services.
Digital Assets: Refers to intangible resources that businesses utilize to create value & develop revenue.
Key Activity: What to focus on?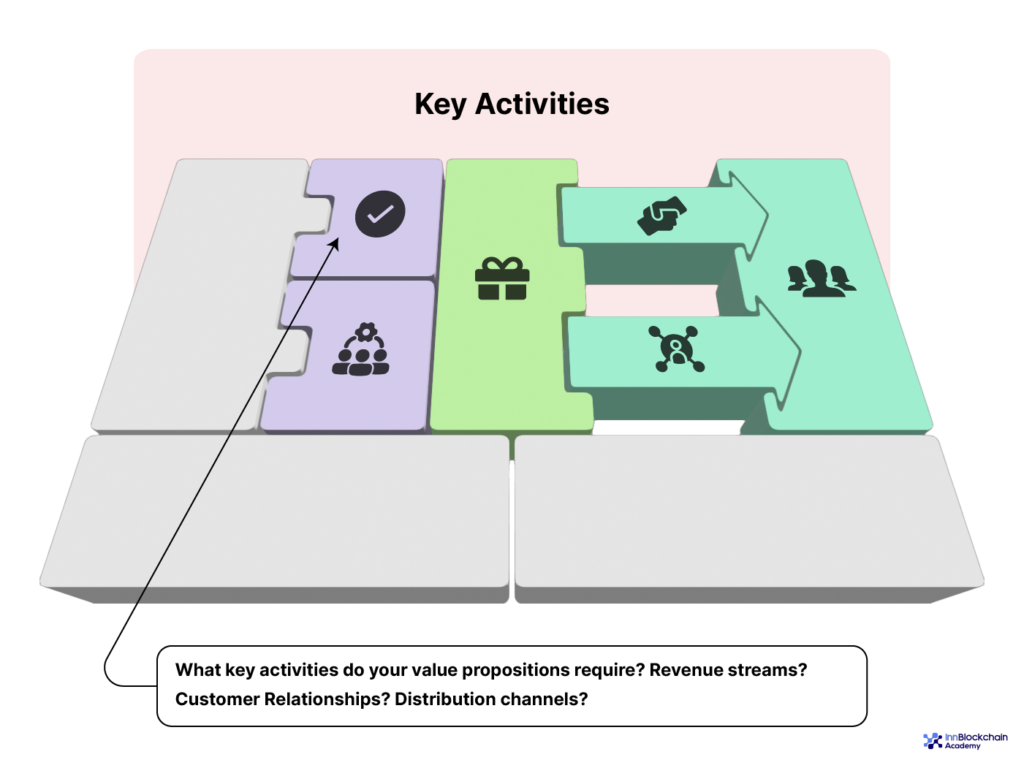 Your Key activity refers to the most important actions performed by your NFT marketplace to make their business model work effectively. It must answer the following questions
What key activities do your value propositions require?
Revenue streams?
Customer Relationships?
Distribution channels?
Key activities are tasks and processes which are necessary for the success of the NFT marketplace, and this is unique for every marketplace. Like key resources, they have to create and provide a value proposition, sustain customer relationships, research the market, and gain revenues. Key activity differs based on the business model types.
Example: Let's consider OpenSea's key activity. It consists of
Payment Processing: Generate revenue through key activities like setting up a payment gateway, handling invoicing & billing, managing refunds & chargebacks, and assuring compliance with appropriate standards & regulations.
Marketplace Management: Connects buyer & seller to handle all activities and processes related to administration & operation taking place within the marketplace.
Peer-to-Peer trade of digital assets: By providing a user-friendly & reliable platform to trade digital assets. Your NFT marketplace can grab more customers, develop high revenue, and create a strong brand.
Key Partnerships: Whom to Collaborate?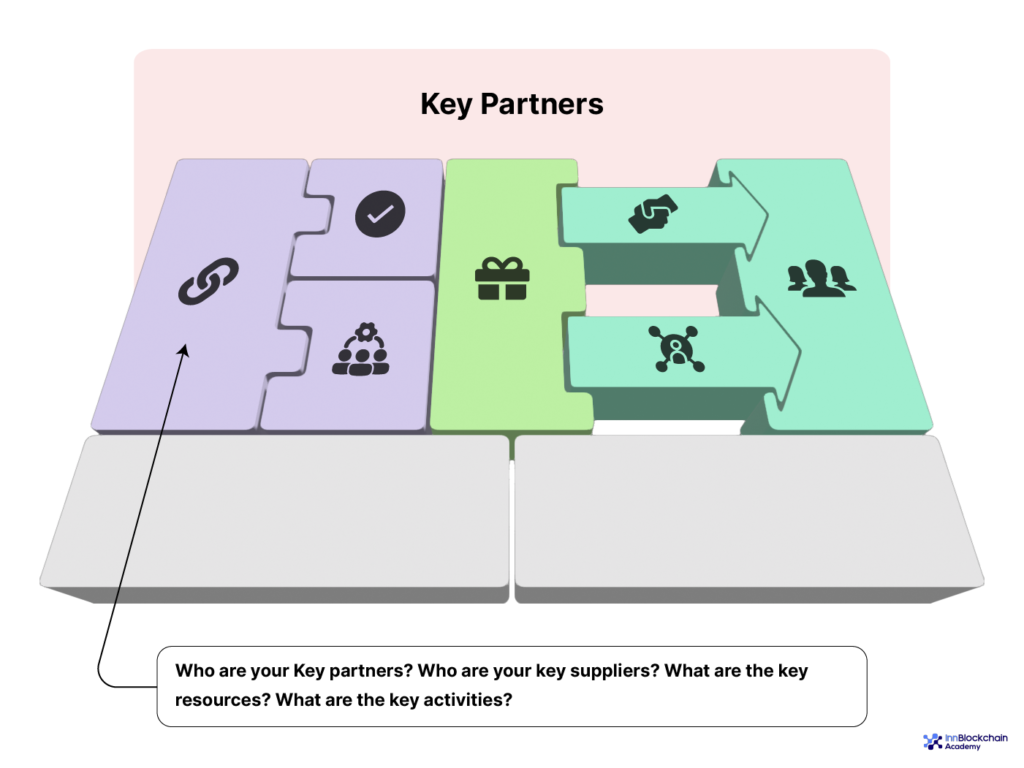 Your Key partners refer to distribution partners or suppliers who maintain a strategic relationship with your NFT marketplace to make your business model work successfully. It must answer the following questions:
Who are your Key partners?
Who are your key suppliers?
What are the key resources your NFT marketplace is going to get from your partners?
What are the key activities your partners are going to perform for your NFT marketplace?
Most of the NFT marketplace develops a partnership for various reasons, nowadays partnership becomes a cornerstone of numerous business models. Generally, the NFT marketplace creates a partnership to improve its business models, minimize risk, or obtain resources. You can classify partnership as,
The strategic partnership between non-competitors
The strategic partnership between competitors
Joint ventures to build new businesses
Buyer-Supplier relationships to assure trustworthy supplies.
Example: Let's consider OpenSea's Key partnership. It consists of
Investors: Investors establish a strategic relationship with your NFT marketplace by providing expertise, financial resources, connections, and more.
Buyers: Buyers collaborate with your NFT marketplace by joint purchasing, co-marketing, negotiating with a supplier, and joint product development to achieve a shared goal.
Sellers: They involve in offering goods or services, donating marketing resources, or sharing knowledge & expertise with your NFT marketplace to maintain the relationship.
Finally, the business model talks about "Finance", which represents all the expenses and revenues of your NFT marketplace business.
Finances – Know Your Expense & Revenue!
The value "Finances" refers to the income and expenses of your NFT marketplace. We split this into:
NFT Marketplace Revenue Stream
NFT Marketplace Cost Structure
NFT Marketplace Revenue Streams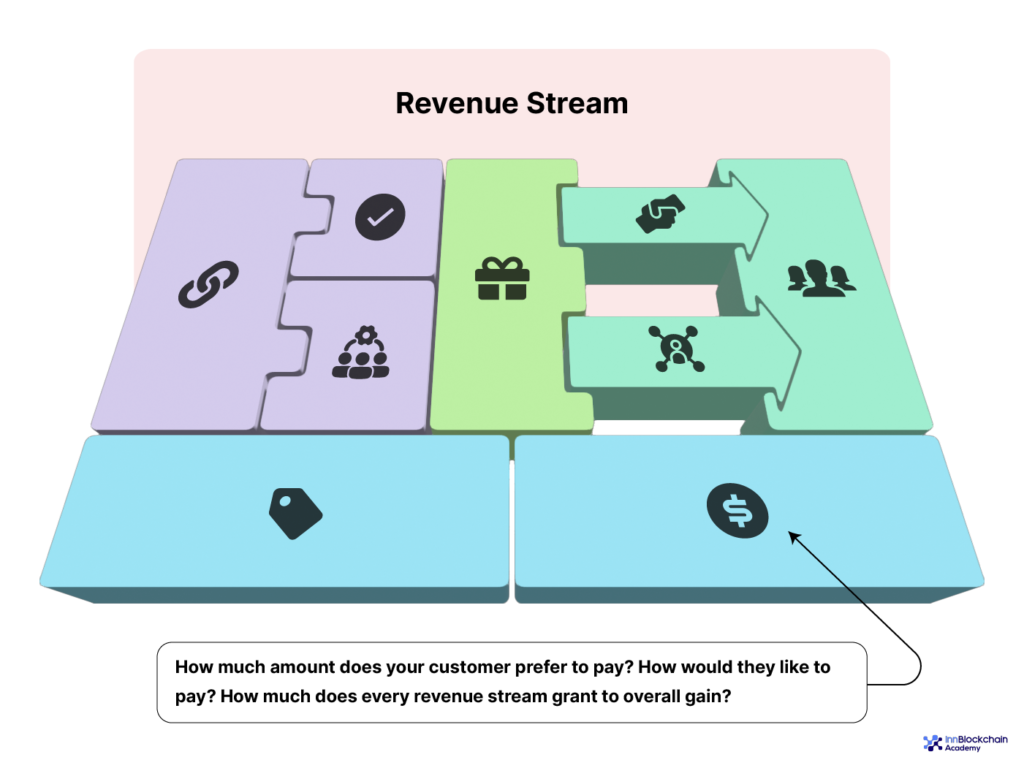 Your revenue streams refer to sources of income that your NFT marketplace generates from its customer segments. It consists of the following questions:
How much does your customer prefer to pay?
How much does every revenue stream grant to overall gain?
How would they like to pay?
Customers are the heart of the business model, then Revenue Streams are its arteries. You have to ask yourself, what value does your customer segment prefer to pay? answering the question will facilitate you to develop one/more revenue streams from every customer segment.
Every revenue stream has various pricing mechanisms like yield management, volume dependent, market dependent, auctioning, bargaining, or fixed list prices. Your NFT marketplace could involve tractional revenues from one-time customer payments or recurring revenues.
Example: Let's consider OpenSea's revenue streams. It consists of
Service Fee/Minting Fee: It is the charges that your company imposed on your users for the services it offers. These fees might be charged based on a recurring or one-time basis, based on the nature of the service they offer.
Registration Fees: It the fees paid by the customer with your NFT marketplace to register for a service or to gain access to a product.
Contract Approval Fees: This is done by charging fees from customers for approving or reviewing a specific project or product service.
NFT Marketplace Business Model: Cost Structure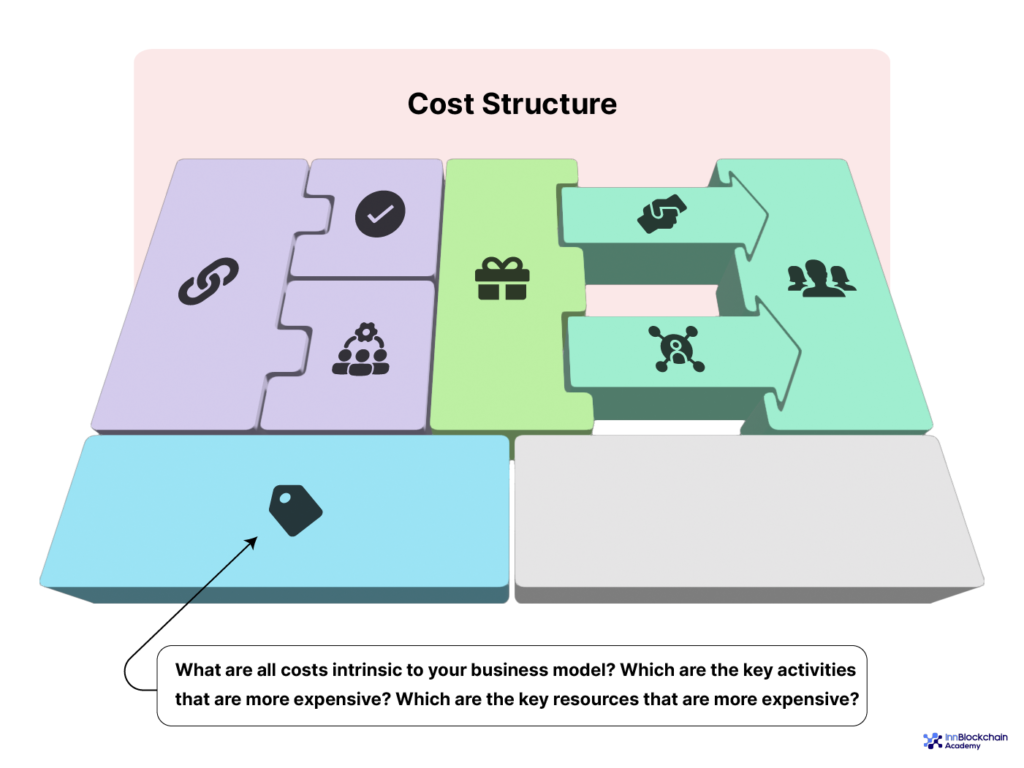 Your "cost structure" refers to the costs required to operate throughout your NFT marketplace. These incorporate costs spent for infrastructure, costs spent on employees for their work, and costs associated with all activities as well as sourcing Via key partnerships. It must answer the following questions:
What are all costs intrinsic to your business model?
Which are the key activities that are more expensive?
Which are the key resources that are more expensive?
This building block briefs about the most prominent costs necessary to operate your business model. Designing & Offering value, sustaining customer relationships, and generating revenue all include costs. These costs are calculated once the key activities, key resources, and key partnerships are defined.
Example: Let's consider OpenSea's cost structure. It consists of:
Payment Processing Fees: A kind of fee charged by the third-party payment processor for processing the user's transactions.
Salaries: A regular or fixed payment made to the employees for their services or work.
Website Maintenance: Ongoing activities & costs associated to keep a website secure, functional, and up-to-date.
To be in a nutshell, a business model is an efficient way to group all elements from cost to the revenue stream. Doing so helps you with a deep overview of the intended business model. Whether you wish to update the existing strategy or you wish to build a new company, the business model is the best way to obtain an initial overview and assess direction as early as possible. Like this: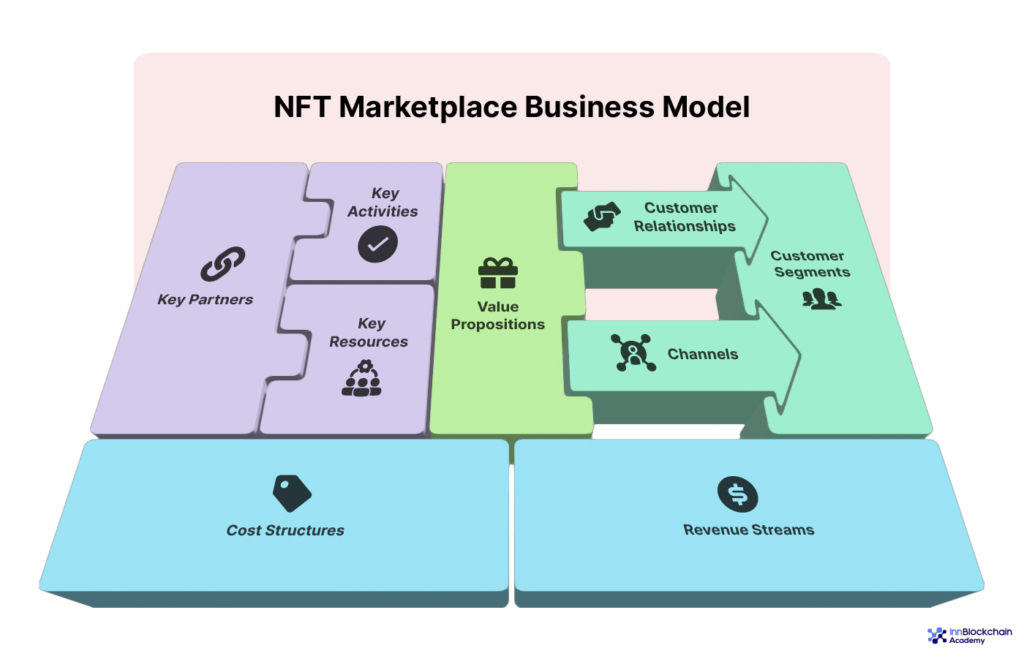 I hope that you might have gained knowledge from the above section. So take the time to craft each and every segment to complete your company's strategies in the business models.
For your knowledge, let me share an example of crafting a business model for the NFT marketplace.
Now it's time to wrap.…
Conclusion
Just like other business models, the NFT marketplace is a combination of ideas, and there are no rules on how every segment operates and functions.
The increasing popularity of the NFT Marketplace results in numerous transactions happening on the platform, which ultimately results in high ROI. Hence, ready to sketch out your business model to develop a better NFT marketplace in the future!