Recently, have you heard more about cryptocurrencies? If yes, it is because of the growing popularity of Bitcoin and other various cryptocurrencies. Nowadays, many businesses have begun to accept cryptos as payment. This tempts people to invest and trade crypto in exchange. The rising adoption and mainstream acceptance of crypto led to create cryptocurrency exchange. Come let's take a rapid look at a few key statistics:
Every day cryptocurrency trade volume is getting raised!!!!! a whopping 82 billion USD on average.
More than 10,000 active cryptos are in use globally.
Around 526 cryptocurrency exchanges exist in the global market.
The global market of all digital payments has reached more than 700 billion transactions.
How to build crypto exchange platform?
One top most question among cryptoreneurs.
How to create centralized crypto exchange?
This is the next state of the question
How to create decentralized crypto exchange?
These are the basic question that revolves around the newbies who are thirsty to create a cryptocurrency exchange. Don't worry you are in the right place! This blog guide to how to create cryptocurrency exchange.
Let's dive into our topic……
What is a cryptocurrency exchange?
A cryptocurrency exchange is a digital platform that facilitates users to buy, sell, and trade cryptos. Moreover, these exchanges are especially used to trade one crypto for another. It reflects the current market prices of several cryptos. Let's see more about
How does crypto exchange work?
Overall Benefits & Requirements of Cryptocurrency Exchange
Plan and Design of cryptocurrency exchange
Development of cryptocurrency exchange
How does cryptocurrency exchange work?
A cryptocurrency exchange is a place where companies or individuals can trade, sell, and buy cryptos, commodities, securities, and more. Once you register an account in the crypto exchange, you can sell/buy or trade cryptos such as ETH, BTC, LTC, DOGE, DOT, and more.
With Fiat money, you can buy/sell various cryptos which are all supported by your exchange. Similarly, you can also trade one form of cryptos for another. If the exchange offers a well-established and bigger service then it the more likely to provide a range of cryptos.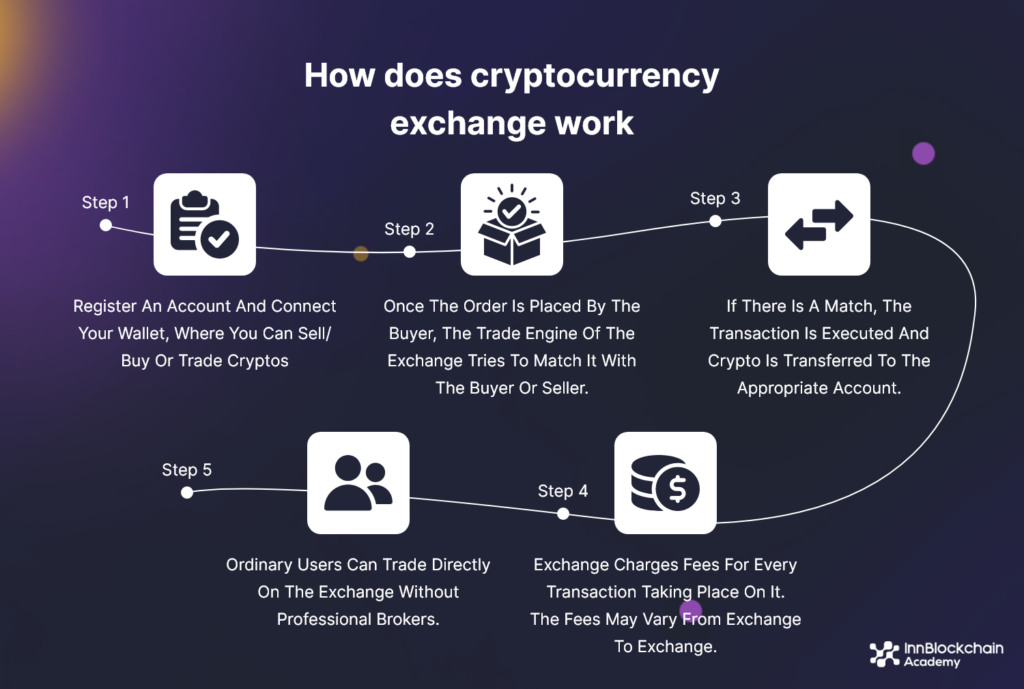 Every exchange publishes the exchange rate for every trading pair they support, for example, if it is crypto-to-crypto – BTC:ETC or Fiat-to-Crypto – USD:BTC. Various combinations of trading pairs are maintained in an order book. It also maintains a record of all sell and buy orders for a specific commodity, cryptos, or stock on an exchange.
Once the order is placed by the buyer, the trade engine of the exchange tries to match it with the buyer or seller. If there is a match, the transaction is executed and crypto is transferred to the appropriate account. This transaction is recorded on the distributed ledger
Now, you can also convert your crypto back into Fiat currency and store it in your account for future trade or you can also withdraw it as cash. The services may vary from exchange to exchange or the app you prefer to the user.
Benefits of creating a cryptocurrency exchange
Recently, cryptocurrency has attained huge popularity among cryptopreneurs globally. With industrialization and technological involvement, digital currencies are acquiring a satisfactory position over others, eg. Bitcoin.
With cryptocurrency, it gets simpler to transfer money without the interruption of banks or other financial institutions.
Let's see the key benefits of create a cryptocurrency exchange.
Revenue generation
There is also n Number of ways to generate revenue Via the cryptocurrency exchange business. The most common way of earning money is through listing fees, deposit fees, withdrawal fees, minting fees, and more.
Apart from these, as an admin, you can also gain by facilitating margin trading where users could buy things by giving a sum of money or digital asset as collateral, that is utilized by the platform owner for various purposes.
Next, Staking is one of the ways where cryptopreneurs take part in the staking pool to hold their cryptos in exchange and in turn acquire rewards and interest for staked cryptos. Here the admin benefited by charging a commission for the staking service and he can also use the stake cryptos for various purposes.
IEO Launchpad has added features that can be integrated with the platform. Suppose new cryptos come to the market, then they can be listed in the exchange platform with the help of the IEO launchpad. For listing the new crypto in IEO, charges are applicable which are earned by the platform owner/admin.
New Opportunities
Cryptocurrency exchange stands at the forefront of financial innovation. By beginning an exchange, as an admin, you can gain more exposure to a new market and moreover, you can also expand your user base.
Likewise, with innovative ideas, you can collaborate with various businesses or brands to get numerous business opportunities. This helps to maintain a good relationship with your key partners. In this way, you can stand ahead of your competitors by attracting more users to your exchange platform. which ultimately reflects in high ROI.
Scalability
Globally, the growth value of cryptocurrency exchange will be $30.18 billion by 2021, and it is expected to multiply at a growth rate of 27.8% (CAGR) from 2022 – 2030. From this stat, you can come to know that it is going to be the evergreen business in the crypto world.
Cryptocurrency exchange is a new and relatively evolving business. Beginning a cryptocurrency exchange will allow you to tap into this thriving industry. Being an early adopter of the cryptocurrency exchange along with deep knowledge of the cryptocurrency exchange business model, you can position yourself in the market to gain a competitive advantage.
Once we know its benefits, let's move on to the next topic What are all the requirements for creating a crypto exchange platform….
Requirements for creating a cryptocurrency exchange
If you have an idea to create and launch a cryptocurrency exchange platform that involves several requirements which all need to be considered to confirm your platform is user-friendly, secure, and compliant with regulations.
Here let me share a few essential requirements for creating an exchange. They are
Legal and regulatory compliance: You have to research and comply with applicable laws and regulations like KYC & AML in your jurisdiction. This means acquiring licensing and registering with regulatory bodies.
Secure infrastructure: You have to implement security measures like 2FA, SSL encryption, and cold storage to store users' funds.
User-friendly interface: Your platform must be simple to use for both beginners and experienced traders. This includes features like intuitive navigation, concise instruction, and clear, and responsive design for mobile devices.
Robust trading engine: This is the backbone of crypto exchange. Has the ability to handle the high trading volume, quick execution of orders, and integration with multiple payment gateways.
Liquidity providers: To experience seamless trading, you have to connect to multiple liquidity providers to assure that there is adequate liquidity on your platform.
Customer support: You have to maintain a team to provide support for your customer's inquiries.
Marketing and branding: To grab users to your platform, you are in need of a strong brand and marketing strategy.
Overall, to successfully create cryptocurrency exchange platform, you have to concentrate on the above key requirements. Follow these tips to create a user-friendly, secure, and attractive website for your crypto exchange business.
Now let me share with you some of the common steps to create centralized and decentralized crypto exchange.
Planning and Design
Defining the target audience
A target audience refers to a particular group of people who are interested in a specific product, service, or message. This group of people is defined based on factors like psychographic traits, geographic location, behavior, interests, and demographics. Based on these factors there are diverse groups like investors, traders, businesses, and enthusiasts globally who share a common interest in digital currency.
Let's take one step forward to know more about the target audience
Individual investors: Users who wish to invest in cryptos for long or short-term profit.
Traders: Users who engage themselves in regular buying and selling of cryptos in order to make gains from market fluctuations.
Businesses: Nowadays, businesses begin to use cryptos for investment or payment or to perform international transactions.
Institutional investors: This includes asset managers, hedge funds, and others who wish to invest in cryptos as part of their portfolio diversification strategy.
Crypto Enthusiasts: These are the users who are more passionate about cryptos and interested to take part in the cryptocurrency ecosystem Via buying, selling, mining, and more activities.
It is worth noting that there are few exchanges that cater to particular audiences like retail investors or institutional investors and might provide services or features to satisfy their particular needs.
Must-have feature of the exchange
After having a quick look at the target audience, it's important to understand the features that are necessary for any successful cryptocurrency exchange platform. Here I am going to share with you some set of features that help you to enhance the exchange's functionality and user's trading experience.
They are,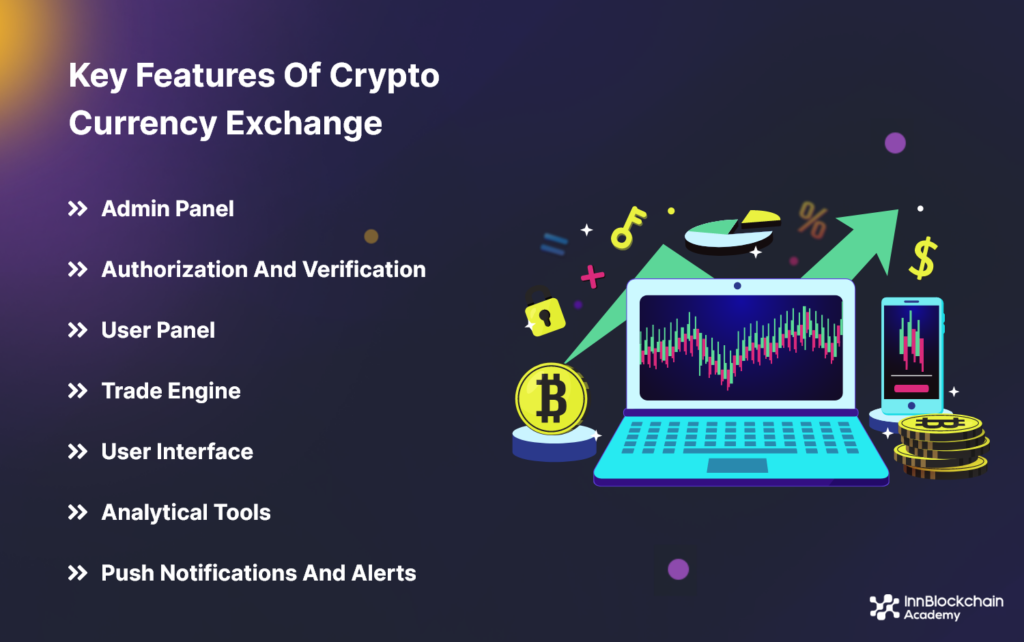 Admin Panel
Facilitate the owner of the exchange platform to control all aspects of your website's content and functionality. Admin has the ability to set up new pages, alter existing ones, manage users, add products, and more. Moreover, this panel is utilized to do updates on the entire website.
Authorization and Verification
It is an essential feature for the exchange to provide a user onboarding experience. This is needed to safeguard user's funds and information. Anyone can simply verify their account with the help of an email address or phone number.
User Panel
It is the base for a crypto exchange platform where the users interact with the exchange by placing trades. So the UI must be highly user-friendly, clear, and simple to give details about statistics, fund deposits, fund withdrawals, order management, etc.
Trade Engine
Automatically control the orders on the website. It is especially used to track the price of cryptos and process the transactions by filling buy orders and sell orders according to the market condition.
User Interface
Based on the target audience, the UI must be simple and comfortable for the users to place buy/sell orders, and able to view the current order book, balances, transaction history, statistics, etc.
Analytical tools
Analytical tools help to grant professional traders to your platform. It facilitates you to acquire additional information regarding the current status of the market and helps to predict its movement, trends, testing strategies, etc.
Push notifications and alerts
This helps you to keep in touch with your users, and notify you about the significance of events taking place on the exchange: updates, applications, specials, news, stocks, etc. Alerts notify you about rate changes, trend changes, and information about closing trade.
Creating Exchange's wireframe and design
Is the process of designing the visual layout and structure of a website. To be precise, the wireframe & design of a website is nothing but a blueprint or basic layout of the website. This exhibits the elements like buttons, text, and images that are to be placed.
Let's see what are all the elements to be considered while creating the wireframe and design of the exchange platform.
Header: It include the exchange's logo, registration options or user login, and navigation menu.
Market information: should exhibit trendy market information such as price, volume, and percentage changes of cryptocurrencies.
Trading charts: Display trading charts for numerous cryptos, exhibiting price trends over time.
Order book: Have to exhibit recent buy and sell orders for a particular cryptocurrency.
Trading interface: Facilitates users to buy & sell cryptos. It must include fields for entering the price and amount of cryptos, as well as an option for selecting the type of order.
Wallet: Exhibits the user's current balance and transaction history.
News and announcements: Shows trending news and announcements in the crypto market.
Footer: Includes links to important pages like FAQ, contact, terms, and conditions pages.
Overall, the wireframe and design of the exchange should be clear and user-friendly. So that users can easily navigate and trade cryptos. It must be responsive to work on various devices and screen sizes.
Overall Architecture Of The Cryptocurrency Exchange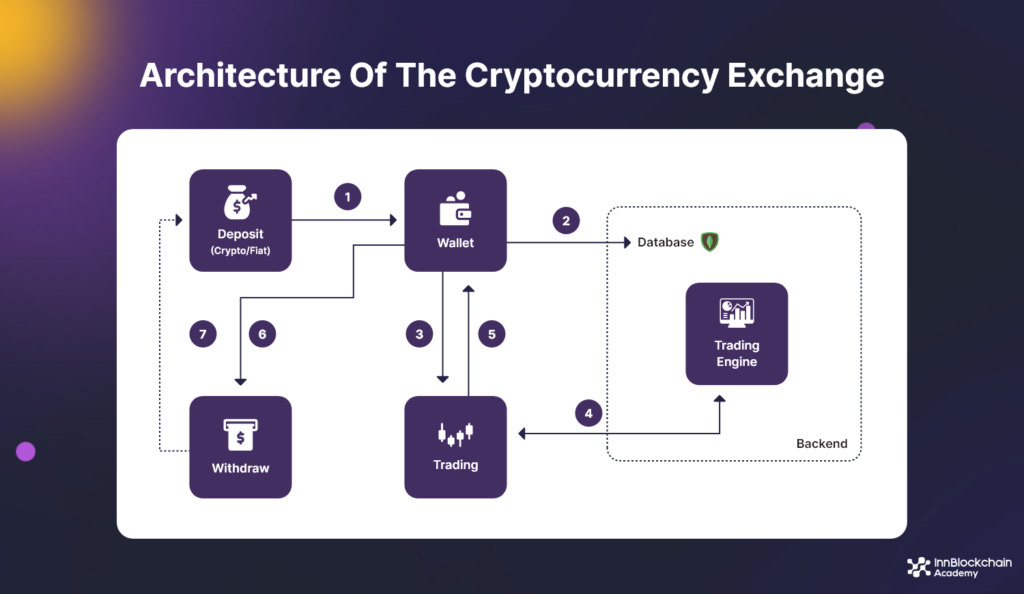 Of course, you can not begin your cryptocurrency exchange without sketching its architecture. For a moderate business owner, software architecture might sound too technical and grim. But at the same time, without in-depth knowledge, the subject won't be scary, just think about the overall architecture of your house.
IT'S NOT SCARY, I PROMISE
Generally, sketching architecture for a crypto exchange platform is the responsibility of the developers, but you would find they base their assumption based on a few things like
Do you prefer CEX or DEX?
How many users would you expect to serve at a time?
How quickly do they have to transact?
What must be the uptime?
What frontend do you envision?
Once you have answered all these questions, you can sketch out a rough architecture by including multiple blocks for your cryptocurrency exchange platform.
The building blocks required to create a cryptocurrency exchange are:
Trade Engine: The soul and heart of your product includes all trading logic referred to as Trade Engine. Generally, this block matches the seller's orders with the buyer's bid.
Wallet: Mostly, all users like to have multiple wallets. All these wallets should be in concert with your internal wallet for the most effective fund movement.
API layer: As everyone knows, APIs are used to link blocks such as payment gateway, liquidity providers, trading bots, blockchain explorers, logging, analytics, and more within one platform. Moreover, API is also used to link your exchange with third-party solutions.
Deposit Money: The payment gateway integrated with the exchange facilitates the users to deposit fiat money into the exchange's wallet. This will be entered into the database and this will be reflected in the amount of money the user has in the wallet.
Buy crypto: The user can buy any type of crypto the exchange supports. When the user clicks the buy option, the trade engine matches the buyer order with the seller order and then updates the entries in the database.
Sell crypto: Like buying, users can also sell any type of crypto supported by the exchange. The trade engine of the exchange finds the exact buyer who is ready to buy at the greatest price.
Withdraw crypto: Moving crypto holdings from your exchange wallet to your external wallet address. By this, you can fully control your cryptocurrencies using private keys rather than storing in on the exchange.
Development
Choosing the right technology stack
Crypto exchanges begin to pop up right and left, but all of them are not as secure as they should be. This is why it's most significant to learn the tech stack required to create cryptocurrency exchange. Let's see..
Frontend: React, AngularJS, Bootstrap, jQuery,
Backend: NodeJS, PHP, Python,
Cloud: Google Cloud Platform, AWS, Microsoft Azure,
iOS platform: Swift, IOS Fabric, Objective-C
Android platform: Kotlin, Java, C#, C, C++
Databases: Redis, MySQL, MongoDB
Overall, to create cryptocurrency exchange needs skilled professionals in blockchain, regulatory compliance, software development, and security. It is a much more difficult task that requires careful planning and execution.
Setting Up Platform Environment
Involves in creating a server infrastructure to handle the exchange platform and associated services. This infrastructure includes software, hardware, and network components that work together to offer a scalable, secure, and reliable exchange.
Here let me share a few key components
Choose the best web hosting provider and select a suitable hosting plan.
Install web server software to configure your website content and handle the incoming request.
Set up database management software like MySQL to store and manage trading data, user data, and other important data.
Install security tools like a firewall, SSL certificate, and more to safeguard your platform against hacking.
Implement load balancers to circulate incoming traffic across multiple servers.
Set up analytic tools to track the security, uptime, and performance of your platform environment.
These are some of the key steps you must consider while creating a platform. Appropriate tools with the proper knowledge will make your cryptocurrency exchange platform stand ahead of your competitors.
Developing Exchange Frontend
Is the process of creating visual and interactive elements of the website where users interact directly. This includes the layout, design, and functionality of the website's UI, as well as the code that powers these features.
Front-end is developed with web technologies like JavaScript, CSS, and HTML to create a user-friendly & responsive website in a way to satisfy the target audience.
The ultimate goal of front development is to create an intuitive & engaging user experience that facilitates the visitors to navigate and interact easily with the website.
Developing Exchange backend
Is the process of creating server-side functionality of a platform. It involves developing the components to run on a web server, handling tasks like user requests, accessing & manipulating data stored on a database, and developing dynamic content which is sent to the user's web browser.
The backend of the platform includes server-side programming language (such as PHP, Python, or Ruby), a web application framework (such as Django, Flask, or Ruby on Rails), and a database management system (such as MySQL or PostgreSQL).
Backend development involves processes like designing, data models, and database schema, writing server-side code to control user requests, implementing security measures to safeguard against attacks, and testing & debugging carried out to ensure it functions as expected.
The intent of backend development is to handle user requests and deliver content to the web browser.
Testing Cryptocurrency Exchange Platform
Is the process of evaluating the platform's security, usability, and functionality to confirm that it satisfies the expectations and needs of its intended users. Generally, testing is done to predict bugs or issues that might affect the usability or performance of the exchange platform.
The key purpose of testing is to confirm that the exchange is easy to use, reliable, and secure for its intended audience. Generally, platform testing carried out various types of tests like usability testing, security testing, performance testing, and functional testing.
These tests are done to predict and resolve issues with the platform's functionality, UI, security, and speed to ensure that the exchange platform is ready to launch and use by its intended audience.
Launching Cryptocurrency Exchange Platform
Launching is the process of making an exchange publicly accessible on the internet. It involves
Creating the exchange and designing its layout and content.
Register domain name
Acquire web hosting
Upload platform file to the web server
Perform testing
Live the exchange
Once launching the platform, the admin can earn revenue by charging fees for every transaction taking place on your exchange.
In this article, I have shared my opinion on How to create cryptocurrency exchange platform. Hope you will be satisfied with the above-discussed tips on creating a platform.
Final Thoughts
Cryptocurrencies are more popular than ever. The crypto market is still young and has plenty of places for innovative and new ideas. Statistics reports say that there are various opportunities for cryptopreneurs to succeed in the crypto market.
Considering the popularity of cryptocurrency exchanges globally, it is clear why more and more people prefer to create cryptocurrency exchange platforms. Digital currency exchange offers great opportunities for both those who are gaining knowledge about the crypto market and those who already have good knowledge of it. Creating a high-quality cryptocurrency exchange platform would bring high ROI in a short time span.
Frequently Asked Questions
Is owning a crypto exchange profitable?
Yes definitely, owing a crypto exchange is highly profitable. Nowadays, cryptocurrency trading has attained notable popularity, leading to increased trading volume and transaction fees. As all the industry people begin to enter the crypto market, this ultimately increases the demand for reliable & secure cryptocurrency exchange platforms. By attracting users, ensuring liquidity, and efficiently managing costs, a well-running crypto exchange can generate substantial profits.
Can anyone start a cryptocurrency exchange?
Yes, With the appropriate knowledge, resources, and adherence to legal & regulatory requirements, anyone can launch their own cryptocurrency exchange.
Do you need a license to run a crypto exchange?
Yes, in many jurisdictions, a license is mandatory to run a crypto exchange. Acquiring the necessary licenses and registrations indicates compliance with legal & regulatory frameworks, seeds trust among users, and facilitate the legitimate operation of crypto exchange.
How do crypto exchanges make money?
Crypto exchange generates revenue via various means such as Trading fees, Listing fees, Deposit fees, Withdrawal fees, Margin trading, and more allowing the platform owner to be financially sustainable and profitable.
How hard is it to make your own crypto exchange?
Creating your own crypto exchange is a more challenging task that needs a significant amount of professionals, resources, and planning. Numerous factors contribute to the difficulties such as Technical Complexity, Regulatory Compliance, Liquidity and Market Competition, Security Risks, Operational Considerations, and more. Moreover creating a crypto exchange needs comprehensive understanding, legal compliance, market dynamics, and operational consideration. So it is better to consult a crypto exchange development company.