Did you know by every month thousands of digital currencies are getting added? Curious! This temps new crypto investors! They get ready to launch a cryptocurrency exchange. Yes, I welcome your idea, as an Admin before launching an exchange have a clear-cut idea about how do cryptocurrency exchange work?
Let's see about this deeply…
Before that let's have a quick insight into what is cryptocurrency exchange and its importance.
Cryptocurrency Exchange is a platform where companies or individuals can trade commodities, securities, currencies, and more. It facilitates the users to trade one crypto for another or Fiat money for cryptocurrencies.
Importance of cryptocurrency exchange
By investing in cryptocurrency exchange, entrepreneurs can diversify their investment portfolio to earn high ROI.
It facilitates entrepreneurs with various ways to boost capital for their business ventures.
It provides various ways to collaborate with new industries that are ripe for innovation.
With crypto exchange, you can make your cryptocurrency reach a global audience without any intermediates
Types of cryptocurrency exchanges
Crypto Exchanges are the platform that enables the trading of cryptocurrencies and other digital assets. Currently, in the market, there are four different types of exchanges they are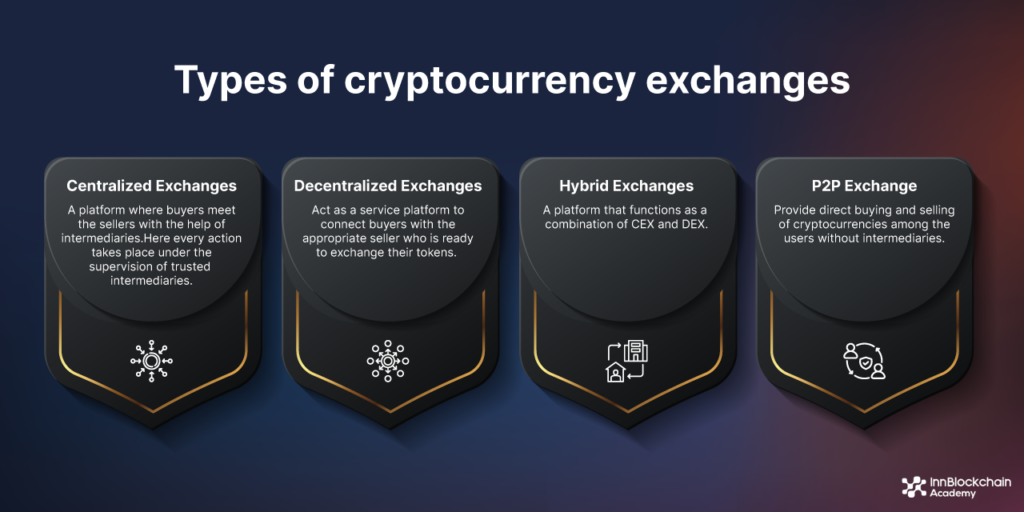 Centralized exchanges – A platform where buyers meet the sellers with the help of intermediaries. Here every action takes place under the supervision of trusted intermediaries.
Decentralized exchanges – Act as a service platform to connect buyers with the appropriate seller who is ready to exchange their tokens.
Hybrid exchanges – A platform that functions as a combination of CEX and DEX.
P2P exchange – Provide direct buying and selling of cryptocurrencies among the users without intermediaries.
To know more take a deep insight into the Overview of Cryptocurrency Exchange Business.
How do cryptocurrency exchanges work?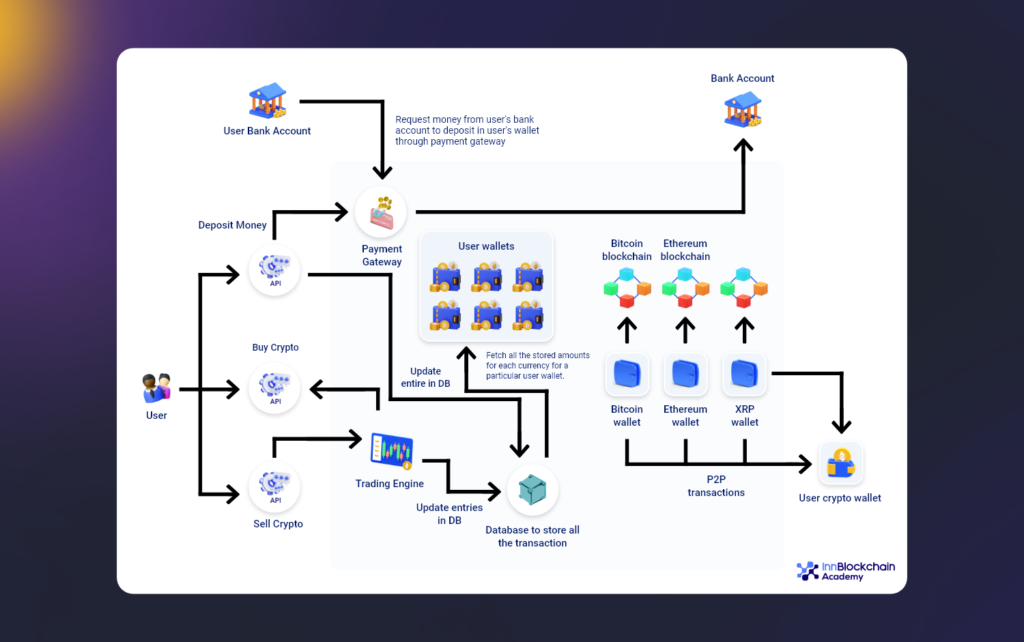 Registration and verification process
The registration & verification process of cryptocurrency exchanges might vary from exchange to exchange, but here, let me share some of the common steps:
Visit the website of the cryptocurrency exchange and click on the "Register" or "Sign-Up" button.
Provide your email address and create a password.
Verify your email address by clicking on the confirmation link sent by the exchange to your email inbox.
Based on the exchange's need, you have to complete additional identity verification (KYC) steps like submitting a copy of a government-issued ID, and proof of ID.
Verify your account details such as account number, bank statement, and routing number for the bank account linked with the exchange.
Some exchanges might have more strict verification requirements, based on their locality & regulatory requirements.
Funding your account
Once you complete the registration & verification process. You are asked to fund your account. This is because most of the exchanges facilitate the users to trade, buy and sell cryptos only with Cryptocurrencies or Fiat currencies such as USD, EUR, GBP, JPY, CAD, AUD, CHF, and more. – this might vary from exchange to exchange.
By funding the account, you can either utilize the fund to buy other cryptocurrencies, or you can hold them as an investment, or can trade them for profit.
Moreover, account your funding facilitates you to take benefits of the exchange's features like margin trading, setting up limits, and accessing advanced charting tools. In some cases, the exchange also provides staking rewards or interest for holding cryptocurrencies in your account, which is one of the ways to earn income.
Overall, funding your account on the exchange is the most essential step to be followed to experience hassle-free trading on the exchange.
Let's take a quick look over the steps to fund your account:
Link your wallet with the exchange
Click on the "Fund" button on the exchange page
Then Choose the "Deposit" option. Here you can choose the cryptocurrencies or Fiat you wish to deposit.
You can see your wallet address & tag
Copy the wallet address of currencies on the other platform from which you wish to deposit.
Click the "Send" button you will receive your currencies in your wallet.
I hope these steps will be more useful for you at the time of funding your account. If wanna know more about the next process in the exchange, then continue reading……
Placing orders
Cryptocurrency exchange facilitates you to trade one crypto for another or for Fiat currencies. Before placing an order you have to choose the trading pairs.
what are trading pairs?
In the context of cryptocurrency trading, trading pairs refer to the combination of two different cryptocurrencies which can be traded against each other on the exchange.
For example: Consider a trading pair BTC/ETH, BTC, here BTC refers to the base currency and ETH refers to the quote currency. This means that traders can buy/sell BTC using ETH or vice versa.
Trading pairs determine the value of one cryptocurrency in relation to another. The value of the cryptocurrency may vary depending on several factors like market demand, news events, and supply. In this way, traders get benefits from these price movements and potentially profit from them selling high and buying low.
After choosing the trading pair, you can select the suitable order type depending on your investment goals, market analysis, and risk tolerance. As trading pairs and order types are interlinked, then you must also know about order types. Am I right?
Yes, come let's take one step forward to know about the various order types in the exchange. They are
Market Order: Facilitate the users to buy or sell a particular cryptocurrency at the current market price. This order type executes instantly and also confirms that the order is filled as quickly as possible regardless of price.
Limit Order: Allow the users to buy or sell cryptocurrency at a specific price. Here the traders can set the maximum or minimum price at which they are ready to buy or sell cryptocurrency. This order will execute only if the market price reaches the specified price.
Stop Order: Facilitate the users to buy or sell cryptos once the market price attained a specified price, referred to as the Stop price. This limits losses or locks in profit on the position. The Benefit of this order type is that you do not need to watch the market price on a daily basis.
Stop Limit Order: Stop order and Limit order combine together to form Stop Limit Order. Traders use this order type to mitigate risk while buying and selling stocks. This order is implemented while the price of the stock attains a specified point.
Trailing Stop Order: This type of order set a percentage or dollar amount away from the market price. The trailing stop price gets adjusted when the market price increases, this facilitates the traders to lock in profit allowing for potential gain.
Overall, as a trader before placing an order, it is most significant to consider both trading pairs & order types while making your decision.
Now let's step to know about Order matching
Order matching
Assume you are the trader. If you have placed a buy order for $10,000 and placed a sell order for $11, 000 in Bitcoin. Then, at a time, all of your commands are resolved! what is the cause?
You might believe that your buy/sell order has been supplied with the best possible pricing but behind the scene, it is done by the Order Match Engine. Do you know?
Yes, definitely Order Match Engine is the core of cryptocurrency exchange – are you curious to know how its works and ensures correct order execution?
Come let's take a quick insight….
An Order Matching Engine: What Is It?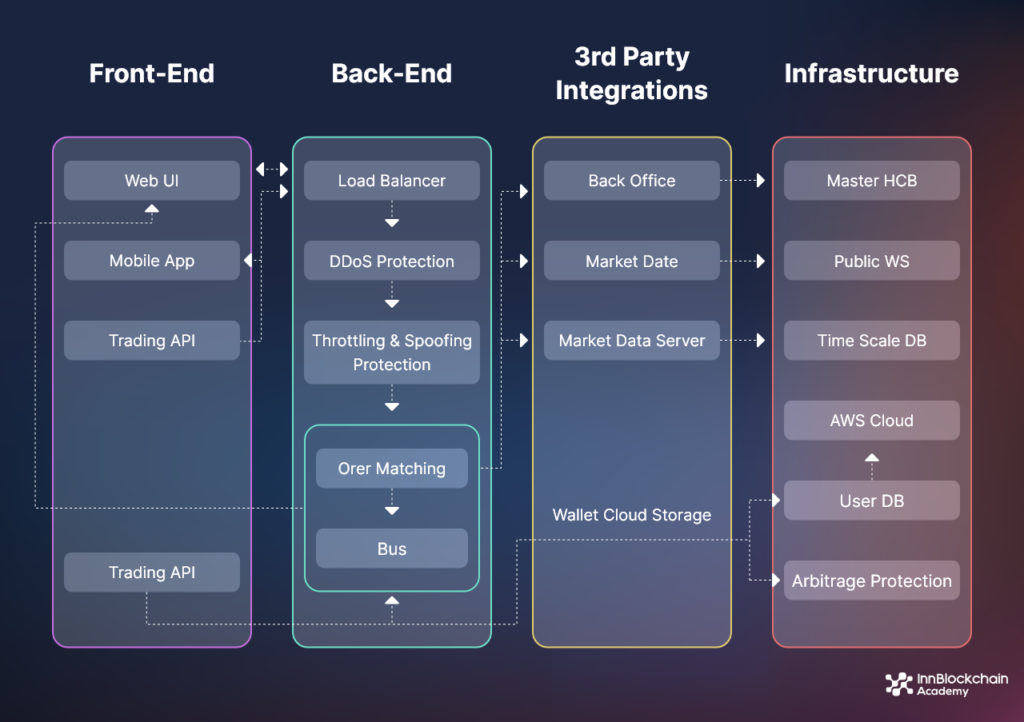 An order match engine is software used to match buy orders with sell orders. It is the heart of all cryptocurrency exchanges facilitating the traders to buy & sell cryptos efficiently and quickly.
The engine operates by scanning the order book for every new order. Whenever the order is placed, the engine would try to match it with another order in the book. Suppose there is no match, then the order would be entered into the order book and would be held till another order come matching it. Once the match is identified, the transaction will execute & complete by notifying both parties.
Now let's move on to the next topic to know how execution takes place within cryptocurrency exchange.
Execution of trades
In the context of cryptocurrency exchange, execution of trade is the process of completing a transaction between buyer and seller in a financial market. This means the buyer/seller agrees on quantity, price, and more relevant terms, the trade is executed and assets are exchanged and updated in the trader's account balances.
The speed and accuracy of trade execution can't be constant due to the continuous price fluctuation in the market. Ensure your exchange uses enhanced technologies like smart order routing, high-frequency trading, and more to have fast and efficient trade execution.
Overall, traders must carefully consider the benefits and risks of executing trades, as well as traders must also know about the fees and charges applied by the exchange. In the upcoming section let's see about what are all the fees and charges applied by the exchange for every transaction.
Before stepping into the exchange everyone has to know about the fees charged by the exchange, let's see….
Fees and charges
Crypto exchanges charge fees to make a profit by allowing transactions, this is why a minimum amount is deducted from each transaction. In this way, the platform owner can earn money and also can keep the exchange functional. The fees charged by the exchange vary depending on the market's volatility at that time
The following are some of the common fees charged by the exchanges: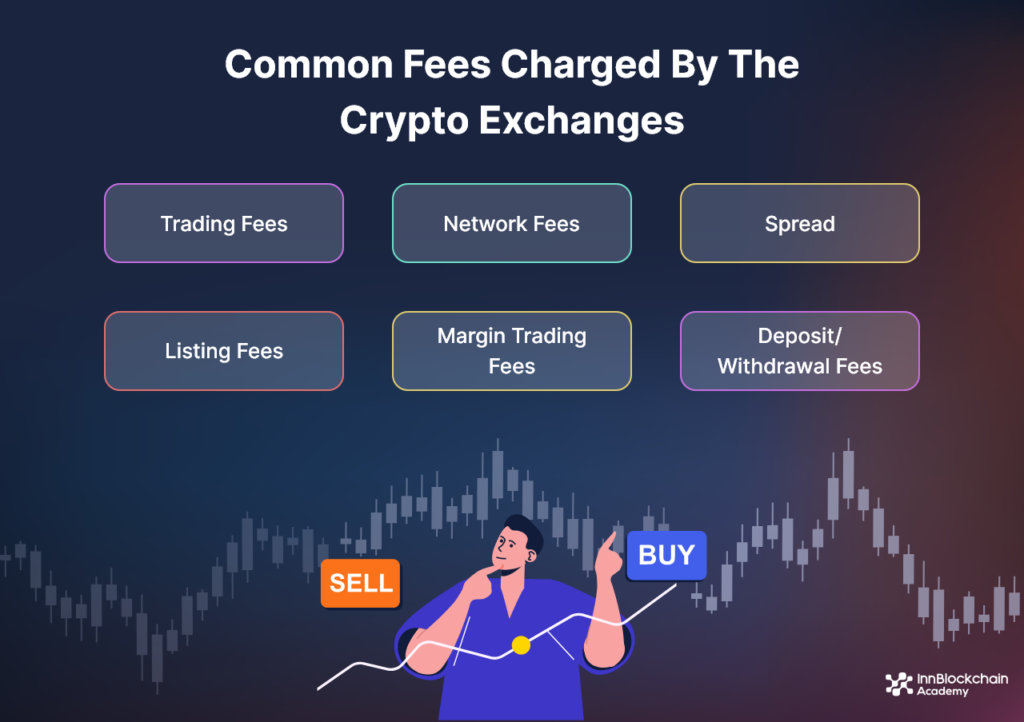 Trading Fees: It is the fees charged for every trade executed on the exchange. The fees may vary based on volume, trading pairs, or account tier.
Deposit/Withdrawal Fees: It is the fees charged for depositing/withdrawing funds from the exchange.
Network Fees: It is the fees charged at the time of transferring cryptocurrencies between exchanges or wallets. This kind of fee is paid to miners who validate and process a transaction on the blockchain.
Spread: It is the price difference between the highest seller price and the lowest buyer price for cryptocurrency. Exchange charges fees on the top of the spread to make a profit.
Margin Trading Fees: If you commit yourself to margin trading, then you will charge a fee for borrowing funds from the exchange.
Listing Fees: It is a fee charged to list a new cryptocurrency on their platform.
These are some of the commonly charged fees by the exchange. This list of fees will be useful for both admin and users to know more about the cryptocurrency exchange platform.
Withdrawal
In the context of cryptocurrency exchange, withdrawal fees are the process of moving cryptocurrency from one exchange or wallet to another. This withdrawal is carried out according to the personal opinion of the users.
From the user's point of view, let me share a few steps to withdraw cryptocurrencies.
Log in to your cryptocurrency exchange account.
Navigate to the "withdrawal" option of the exchange.
Choose the cryptocurrency you wish to withdraw
Enter the amount
Enter the destination wallet address and click "send"
Verify the withdrawal request, including the amount and destination wallet address.
Confirm the withdrawal
These steps may vary from exchange to exchange but this process will take place through all the exchanges. In some cases, exchanges may charge fees for withdrawing. Hence, it is a must to know about the exchange's fees and policies before initiating a withdrawal.
Security Measures
If you are running a cryptocurrency exchange or thinking to start a new exchange?
Come let's see some of the cryptocurrency exchange security guidelines to maximize the safety of your and your user's funds.
Let's check out the 6 most important security measures to be considered when constructing a crypto exchange
Cold wallets
Do you know the safest way to store cryptos from the user's perspective? It is none other than a "Hardware Wallet" like Ledger or Trezor. Because with this wallet, the private keys are not stored online instead it is stored offline, this is known as cold storage. Cold wallet holds most of all cryptocurrencies as it is not connected directly to the internet.
Two-factor authentication
Mostly all the exchange request users to enable 2FA to log in to their account. It is simply an extra layer of security for the manipulation of your valuable crypto assets.
With 2FA, users have to provide two types of authentication before accessing their accounts. This involves entering the password and one-time code that is induced by an app on their smartphone or sent through SMS to their registered mobile number. This helps to protect user's assets and personal information from unauthorized access.
Linking the account with a specific IP address
This security precaution is not widely used, but it will help to limit the attackers. Once the account is created on the exchange it has to connect to one or several IP addresses. So that it will be harder to surpass it. Monitoring the IP address helps the exchange to notify the user if any suspicious activities take place on his account.
For example, if someone tries to access your account without your knowledge then automatically you will get a message from an exchange like someone from an unknown geographic location or someone from a different browser or computer is trying to log in to your account. This notification email or message has the option to cancel the transaction that took place without your knowledge. This helps the users to prevent hacking.
Customer insurance funds
Exchanges provide insurance policies to safeguard user's finds at the time of hacking or any security breach.
Funds stored on the exchange are insured in 2 ways. The first way is done by the external insurance company and by the second way the funds are backed by internal policies and regulations. Whenever the assets are lost or stolen, the exchanges bear the responsibility to cover the losses of their users
SSL Encryption
Generally, exchanges utilize SSL encryptions to safeguard user data like personal data, private keys, and passwords transmitted between the server and the user's browsers. It confirms that the data is secure and encrypted. This means that any data transmitted between the user's browser and the server is scrambled and can't be blocked by third parties. This prevents unauthorized access to sensitive data.
Multi-signature wallets
Some exchanges utilize multi-signature wallets, which is a kind of digital wallet that needs multiple signatures from various parties to approve a transaction. This adds an additional layer of security, as it stops single individuals from making unauthorized transactions.
Multi-signature wallets are used in place which holds a large sum of money or valuable digital assets. In such a place multiple parties require to take control of the funds to confirm the security and prevent fraud.
Customer Support
Finally, and main section of cryptocurrency exchange is customer support. It is the most important part where most entrepreneurs fail to concentrate. But this is the section where you have to focus more. The users come to your exchange platform based on the good feedback given by your users. So as entrepreneurs provide strong customer support.
I will guide you with a few tips to have excellent customer support. They are
Offer multiple channels of support: Provide various ways such as phone, email, live chat, and more for the users to get in contact with the customer support team of your exchange.
Have a dedicated support team: Ensure that your exchange has a dedicated support team with sufficient knowledge to respond to all kinds of user queries.
Provide timely responses: Your support team must respond to the user's queries within a few minutes. But a delayed response will frustrate the users and causes them to lose faith in your exchange.
Use automation: Utilize automation tools like chatbots to handle some basic queries. So that you can make your support team handle more complex issues.
Monitor social media: Continuously monitor social media platforms like Reddit, Twitter, etc for user's complaints and feedback. Respond to user's comments and fix their issues.
Try to maintain these tips in your exchange to provide excellent customer support for your users in a way to build a loyal user base.
Hope you have got an answer for how do cryptocurrency exchange work? Before beginning a crypto business do a market analysis, business plan, know about launch steps, marketing, and more. For your reference
Future of Cryptocurrency Exchange
One of the best scenarios for 2023 and beyond, global regulators are going to combine a global framework for crypto regulation. You might think this is impossible as there are numerous countries that still don't consider crypto transactions as legal. 
However, crypto regulations have begun to move forward to the federal level. The Biden administration has set up a qualified team to drive the cryptocurrency regulation process directed by Janet Yellen – US Treasury Secretary.
This highly qualified team tones the regulations to create a workable system for consumers, investors, traditional banks, and cryptocurrency businesses. One of the better ways is to approach a cryptocurrency exchange development company who will guide you with regulations to launch a crypto business. 
Increased use of crypto will urge politicians and regulatory agencies to take faster action, and the blockchain system will also benefit from widespread usage. This process will ooze via the crypto market in the upcoming years. 
Frequently Asked Questions
How to make money with cryptocurrency exchange?
The following are some of the ways to make money with a cryptocurrency exchange. They are,
Trading fees
Listing fees
Withdrawal/deposit fees
Margin Trading
Token Sale
Partnership program
What are the various trading options available on cryptocurrency exchanges?
Cryptocurrency exchange provides several trading options based on the type of traders. They are,
Market Orders
Limit Orders
Stop Orders
Margin Trading
Futures Trading
Options Trading
How do cryptocurrency exchange match buy and sell orders?
Cryptocurrency exchanges utilize order matching algorithms, which helps to match buy orders with a sell order.
How do cryptocurrency exchange platforms guarantee the security of users' funds and personal data?
Cryptocurrency exchanges utilize several security measures to protect user's data & funds. They are,
Encryption
Two-Factor Authentication
Cold Storage
Secure Architecture
Auditing and Penetration Testing
Compliance with Regulations
Insurance
Ongoing Security Education